WHY SWATANTRA SHIKSHAANTRA?
Established in 2006, the Swatantra Shikhaantra Centre in Sangam Vihar, New Delhi, was founded to combat the high dropout rates in the urban community.

Our research revealed that learning gaps caused by poor foundational skills, lack of quality teachers, unsafe infrastructure, and inadequate nutrition were major factors driving children out of school.

In response, we launched our flagship remedial education program, which continues to inspire our work across 12 states in India today by helping keep children in school

DONATE NOW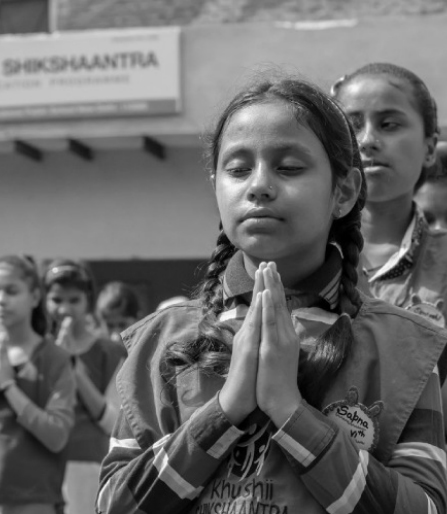 TRANSFORMING LIVES, ONE CHILD AT A TIME
TRANSFORMING LIVES, ONE CHILD AT A TIME
At our safe space, we provide quality education, remedial support, nutritious meals, health camps, and counselling to academically weak students (grades 1-10) from BPL families. The success we've achieved in Sangam Vihar serves as the driving force behind our nationwide programs and the ongoing development of our flagship school. Together, let's continue to make a lasting impact on the lives of these deserving children.
"I failed in english and was losing interest in school but since I started going to Swatantra Shikhaantra my english grades are improving and I feel more confident"
HOW YOUR DONATION WILL HELP
ABOUT KHUSHII
ABOUT KHUSHII
KHUSHII is an independent Not for Profit Organisation founded in 2003 by cricket legend Mr Kapil Dev and his philanthropic partners. KHUSHII is a self-implementing organisation registered under the Societies Registration Act.

KHUSHII presently works in 12 states across India, with 89 governmental schools and learning centres supporting 92,903 children. As a self-implementing direct-tobeneficiary organisation, KHUSHII has been both effective and efficient in helping a child's holistic development by addressing learning gaps, ensuring good mental & physical health, imparting life skills, and providing vocational training courses and skilling opportunities for ensuring sustainable development of children. Since 2003 KHUSHII has positively impacted the lives of 1.5 million children and community members.